"North Shore Stables strives to build towards the future while perpetuating traditions of Hawai'i's past."
Bronson Calpito
Co-Owner | North Shore Stables
"I do it for our culture."
Kaleo Nakagawa
Lead Pāʻū Instructor | North Shore Stables
74th Annual Floral
Day Parade Photos
Click the arrows to see more photos! 
Photo by Amanda Lorenz
The Parade
Aloha Festival's Annual Floral Parade is the culminating close of the largest Hawaiian Cultural Celebration in the nation.
Popularly referred to as the "Aloha Day Parade," the floral parade showcases the traditional art of pāʻū riding, and features beautifully colored floral floats, Hawaiian marching bands, and hālau hula.
The parade itself runs from Ala Moana Beach Park through Kalākaua Avenue to Kapiʻolani Park. Thousands crowd the streets in Waikīkī to watch the vibrant parade pass through.
The 2022 Aloha Day Parade took place on September 24th, 2022.
Aloha Festivals
Established in 1946 as "Aloha Week," Aloha Festivals is now the largest Hawaiian cultural celebration in the U.S. Each year, Aloha Festivals hosts statewide events celebrating Hawaiian heritage through music, dance, and history.
The organizationʻs mission is "to foster the Aloha Spirit through the perpetuation of the Hawaiian culture and the celebration of the diverse customs and traditions of Hawai'i."
In addition to the Annual Floral Parade, also known as the "Aloha Day Parade," Aloha Festivals also hosts popular events such as WaikĪkĪ's famous Hoʻolauleʻa!
Aloha Festivals is a 501(c)3 corporation supported by thousands of volunteers who work together each year to stage the events, which are attended by more than 100,000 people!
For more information, please visit their website at alohafestivals.com.
What is Pāʻū Riding?
To understand Pāʻū riding, one must first understand a vital piece of Hawaiʻi's history.
When horses were introduced to Hawaiʻi, our Paniolo culture blossomed, and horses also quickly became a means of transportation.
In ʻŌlelo Hawaiʻi (Hawaiian language), the term "pāʻū" is used to describe a skirt. Traditional pāʻū were made of kapa, while more modern pāʻū are much like the skirts seen worn by hula dancers. Pāʻū skirts for pāʻū riding, are different because they are longer, and are tied and fastened in a particular way.
Pāʻū were worn specifically by royal women who wanted to protect their nice clothing when riding to a special event or occasion on horseback, and dates back to the 1800s. Pāʻū riding was later practiced by common folk as well.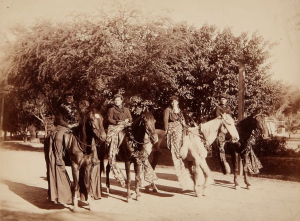 Photo courtesy of Hoʻokuleana LLC
And Today?
Today, the tradition of pāʻū riding is commemorated through pāʻū units' participation in parades like the Aloha Day Parade and King Kamehameha Day Parade in Waikīkī.
Each Pāʻū unit represents a specific Hawaiian island, discernible by color, and is made up of persons who represent the island princess, the princess' royal guards, and attendants.
Preparing a pāʻū unit for parade day takes much more work than meets the eye. Unit members prepare months in advance, sewing pāʻū skirts, making kāhili (royal shafts for royal guards) and banners, and gathering their own natural materials to make lei for each horse and unit member.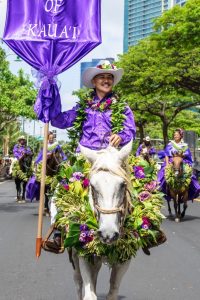 Pictured Above: Island of Kauaʻi Kāhili bearer (royal guard) in Aloha Festivals' 74th Annual Floral Parade.
Photo by Amanda Lorenz
How is North Shore Stables involved?
North Shore Stables has had the pleasure of working with pāʻū units representing multiple islands! If you take lessons with us, you might recognize your favorite lesson horse captured in photos of the parades, while adorned in beautiful lei.
To prepare horses for parade day, there are a number of factors that come into consideration. Horses can sometimes be spooked quite easily, and bustling parades present the ultimate safety challenge for horse handling. This is why it is extremely important to provide extensive training to horses and riders who are featured in parades. Our team at North Shore Stables work diligently to support our mounted pāʻū riders by ensuring our horses are parade-ready, and by offering excellent horsemanship training.
The largest difference between North Shore Stables and other facilities that partner with pāʻū units, is that we require unit members who have never ridden with us to undertake horsemanship and riding lessons. While this is not the industry standard, we believe it is essential for pāʻū riders to become skilled equestrians who have confidence in their overall riding abilities. We have found that most unit members find this experience extremely rewarding, and we are excited to continue this practice!
Just as Western riding and English riding are separate disciplines, so too, is pāʻū riding. Once the foundational horsemanship skills are established, our lead pāʻū instructor conducts specialized pāʻū unit lessons and practices. We are very happy to work with Kaleo Nakagawa as our lead pāʻū instructor, and hope to continue our partnership for years to come!
Past Parades
King Kamehameha Day Parade 2022 – Island of Oʻahu
Aloha Festivals' 74th Annual Floral Parade – Island of Kauaʻi